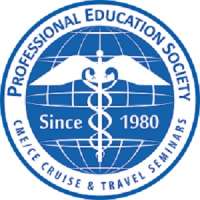 Bali & the Exotic Isles on Seabourn: Medical/dental Healthcare Needs in the Far East
Join PES on an exotic, 10-night journey & earn 14 CME...
Join PES on an exotic, 10-night journey & earn 14 CME/CE credits while discovering Indonesia's ancient temples, UNESCO treasures, tropical splendors, and giant Komodo Dragons, immersed in one of the world's most spiritual places! Enjoy this luxurious bucket-list sailing while aboard the 600-guest, all-suite, all-inclusive Seabourn Ovation. Medical/Dental Healthcare Needs in the Far East: CME/CE Lecture Seminars for Medical, Dental, Nursing and Allied Healthcare Professionals ,This Seminar is planned for 14 Continuing Education Credit Hours. ,CME/CE credits, Certificates of Completion and possible tax deductible guidelines will be provided for registered Professional Seminar attendees Certificates of Attendance will be provided for ALL registered seminar participants. ,Seminar Overview/Statement of Purpose: The large number of islands that make up Indonesia and their dispersion over a wide area has given rise to a diverse culture and hundreds of ethnic groups. Delivering quality healthcare across multicultural groups and locales with an increasing incidence of non-communicable diseases is an ongoing challenge. ,Similarly, the US population is becoming more ethnically diverse, and the occurrences of non-communicable diseases such as cancer, cardiovascular disease, and diabetes are increasing. Exploring solutions to these challenges with in-country professionals provides opportunities for practitioners to enhance healthcare delivery models and best practices to prevent and control disease in cross-cultural environments. ,Learning Objectives: Keep abreast of rapid expansion of medical knowledge and current best practice models on multiple topics to facilitate change and thus provide continually excellent patient care. ,By design, this program permits medical experts to collaborate with colleagues and international counterparts to realize cross cultural view points and updates within the treatment and prevention of disease and offers opportunities to compare and contrast current best practices to supply quality patient care and outcomes in their own professional setting ,Planned In Country Healthcare Topics Include: • National Healthcare Delivery Systems in Indonesia • Community Healthcare: Challenges & Conquests • Prevention & Control of Communicable Diseases • Emerging Trends in Non-communicable Diseases • Oral Health & Disease Prevention • Emergency Healthcare Delivery: Tsunamis & Beyond ,Cruise Itinerary Highlights: • From Benoa, explore Bali's incredible temples, monkey forests, traditional villages, terraced rice fields, and beautiful beaches • See wild Komodo dragons in Komodo Island National Park • Trek to famed Menjangan Island–a world-class snorkeling area or explore Bali's Munduk Highlands from Celukan Bawang • Walk the rim of Mount Bromo, an active volcano in Probolinggo • Discover historic city quarters and archaeological sites, or venture through a tropical mangrove forest by Zodiac in Surabaya • Semarang is your gateway to the mystical stone Buddhist temple of Borobudur, a UNESCO World Heritage Site ,All-Inclusive Cruise Package: • World-class dining in a choice of 6 open-seating venues using only the freshest ingredients, plus seasonal local specialties • Complimentary beverages available at all times including premium spirits and fine wines, plus all non-alcoholic beverages • Intuitive, personalized service and a guest to staff ratio of nearly 1:1, with gratuities for ship staff neither required or expected • Onboard entertainment including gourmet food and wine tastings, musical productions, cooking demonstrations, and more • Ultra-luxury resort at sea featuring 7 bars and lounges, a full-service spa, pool, fitness center, watersports marina, and casino ,Why Travel with PES? We design exclusive customized CME/CE Cruise & Travel programs for medical, dental, nursing and allied healthcare professionals utilizing expert in-country and distinguished PES Faculty. We understand that medical professionals have discriminating tastes and their time is extremely valuable. In every destination, our educational goals combine the best hands-on cultural and learning opportunities, fostering exceptional learning experiences, friendships and connections with national and international colleagues. We pay attention to striking the optimal balance to what there is to discover and learn at each destination in conjunction with our educational seminars. • Experience planning healthcare programs since 1980 • Personalized service from your first contact through to your on-site travel experience • New exciting destinations offered every year • Access to in-country medical and healthcare facilities • Travel with colleagues and like-minded individuals • CME/CE Lecture Seminars by PES Faculty and local experts • Volunteer speaking opportunities • Interact with multiple healthcare specialists enriching professional collaboration • 12–18 Continuing Education credits offered on each trip • Possible Tax deductible benefits • Family and friends are always welcome!
Physician Well-...
Dental Hygienis...
Dental Assistan...
General practic...
Facial Plastic ...
Wellness
Orthopedic Surg...
Internal Medici...
Forensic Psychi...
Family Practice
Dermatologic Su...
Chronic Disease...
Medicine
Nursing
Orthodont